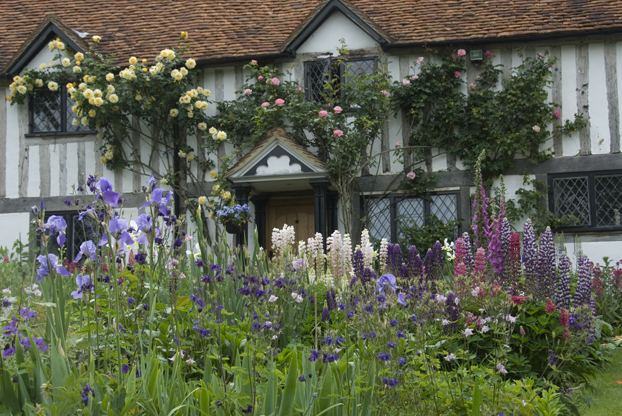 The words 'cottage garden' conjure up an idyllic image involving roses round the door of a picturesque thatch cottage with towering hollyhocks and delphiniums (or something similar) either side of a brick path that leads to a picket gate. It's all very romantic, always spring or summer – and always sunny.

It's a bit of a dream idea, but the absence of the actual thatched cottage doesn't mean that the wish for a cottage garden need be abandoned – remove the chocolate box setting and it is basically an informal style of mixed planting that can be adapted to many gardens.
One of the most appealing aspects of the cottage garden idea is that it does not require design skills – just a love of plants.Of course, an artistic eye does help, but more than any other type of garden it is uncontrived, with its mix of practical and decorative. There are no rules in cottage gardens – if you like a plant and can find a spot for it, then in it goes!
The Origins
To understand a cottage garden, it helps to think back to its origins. Farm labourers lived in tied cottages where they grew much of their own food to supplement their meagre wages. Alongside the family pig and a few chickens, vegetables and fruit were all important providing the family with most of its food. And with little in the way of medical help, the women grew herbs to treat family illnesses. In medieval times these gardens were utilitarian in the extreme, but flowers gradually crept in. Sometimes they were grown from seeds or cuttings from the 'master's garden', flowering herbs were distributed by the monasteries, and seeds or plants were bartered with neighbours or collected from the wild.
The charming rustic containers, plant supports and fences that we associate with this style of garden were a matter of economy rather than aesthetics. Old troughs, baths and buckets had a second life as planters, bean poles and plastics could be gathered from the woods and hedgerows and picket fences were inexpensive boundaries. Think of the cottage garden as a marriage of 'grow your own' with 'make do and mend'.
Creating your own Cottage Garden